Sriracha Honey Chicken Wings
Difficulty: Medium | Makes: 3-4 Servings
These sweet and spicy wings use Roland® Sriracha Chili Sauce for an Asian spin on classic chicken wings.
Directions
Combine the sriracha chili sauce, soy sauce, butter, garlic, lime juice, and honey in a sauce pan. Bring to a boil while whisking. Season with salt & pepper. Allow the mixture to cool and portion half of this mixture for the marinade. Reserve the other half for the cooked wings.
Place the chicken pieces in a freezer bag or large bowl. Pour the marinade over the chicken & marinate in the refrigerator for 1-3 hours.
Pre-heat the oven to 400 degrees F.
When the chicken is done marinating, place it on a non-stick sheet pan.
Roast for approximately 50 to 60 minutes or until internal temperature reaches 165 degrees F.
Heat the remaining reserved sauce and toss in a bowl over chicken pieces after they are fully cooked. Serve with lime wedges.

Sriracha Chili Sauce
#87190 | 17 OZ.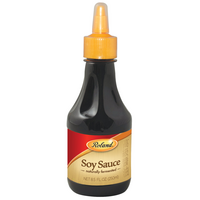 Soy Sauce
#87084 | 8.5 FL.OZ.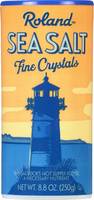 Fine Crystal Sea Salt
#70826 | 8.8 OZ.