Spicy Butternut Squash Hand Pies
Difficulty: Medium | Makes: 6 Servings
Indulge in fall flavors with these Spicy Butternut Squash Hand Pies from influencer and recipe developer @marissamakes__ using our Roland® Spicy Chili Onion Crisp.
For the Pastry
2 3/4 cups all purpose flour (340g)
2 sticks of cold butter, cubed (8oz, 226g)
1/4 teaspoon ground nutmeg
1 tablespoon ground black pepper
1 teaspoon apple cider vinegar
1/2 cup ice water, as needed
Pinch of kosher salt
1 egg beaten with water, for egg wash
For the Filling
Directions
For the Pastry
Combine the flour, spices and butter in the bowl of a food processor, pulse until the butter is evenly incorporated
Add the apple cider vinegar
With the food processor on low, slowly drizzle in the ice water until the dough is just hydrated (do not over process the dough)
Wrap the dough in saran wrap and flatten into a small disk, refrigerate for 1-2 hours.
For the Filling
Preheat the oven to 425 degrees F
Peel and deseed the butternut squash, chop into 1/2 inch and dice
Slice the onions into quarters, then thinly chop width wise
Toss the squash and onions with oil and salt to coat, add to baking sheet
Bake for 35-40 minutes until tender and caramelized, stirring once halfway
Allow to cool, then add in the Spicy Chili Onion Crisp
Add salt and more Spicy Chili Onion Crisp, to taste
Assembly

Roll out each portion of dough. Using a 6 inch bowl or cake pan, cut a total of 6 inch circles (you may need to re-roll the scraps to get 6 circles)
Use your finger with some water to dampen the edge of the pastry. Fill each circle with 3 tablespoons of filling on one side of the dough, folding in half to create a semi-circle. Firmly press the sides together to seal, and crimp as desired
Use a sharp knife to cut a few steam vents into the top of each hand pie. Using a pastry brush, apply the egg wash to the pies
Place on a lined baking sheet and bake at 425 degrees. After 15 minutes, lower the temperature to 375 degrees and bake for an additional 20-25 minutes until golden brown and flaky. Enjoy!
*Find Marissa on Instagram at @marissamakes_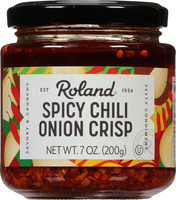 Spicy Chili Onion Crisp
#87723 | 7 OZ.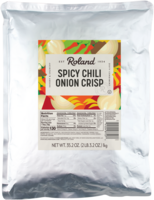 Spicy Chili Onion Crisp
#87727 | 35.2 OZ.