Pan-Fried Chicken Dumplings
Difficulty: Medium | Makes: 6-8 Servings
Celebrate the Lunar New Year with these pan-fried chicken and mushroom dumplings said to bring wealth and prosperity in the new year!
Ingredients
2 tablespoons unsalted butter
1 small onion, finely diced
¼ cup Roland® Sliced Water Chestnuts, finely diced
2 cloves garlic, finely minced
1 teaspoon ginger, finely minced
½ teaspoon salt
1 (1.06 oz) jar Roland® Dried Shiitake Mushrooms, reconstituted, finely chopped
1 pound ground chicken
1 tablespoon sesame oil
2 tablespoons soy sauce
1 teaspoon sugar
2 tablespoons, finely chopped scallions, plus more for serving
1 tablespoon Roland® White Miso Paste
1 (14 oz) pack of store-bought dumpling wrappers
Neutral oil, for pan frying
2 ½ teaspoons flour
Roland® Spicy Chili Onion Crisp, for serving (get the Spicy Chili Onion Crisp on Amazon)
Roland® Sriracha, for serving (get the Sriracha at Target)
Roland® Plum Sauce, for serving
Roland® Duck Sauce, for serving
Roland® Hoisin Sauce, for serving
Directions
Cook ground chicken according to package directions and set aside

In a large pan over medium heat, add 2 tablespoons of butter. Once melted add the onion, water chestnuts, garlic, ginger, salt, and chopped reconstituted mushrooms. Cook for 8-10 minutes, take the pan off the heat, and allow to cool completely

In a large bowl, combine the cooked cooled mushroom mixture, ground chicken, sesame oil, soy sauce, sugar, 2 tablespoons scallions, and white miso. Mix the filling to combine until a paste forms

To each wonton wrapper add 1 heaping teaspoon of filling. Wet the perimeter of the wonton and pleat the dumplings. Ensure they are tightly sealed. Continue until all the dumplings are assembled

To cook the dumplings, add a tablespoon of oil to a non-stick or cast iron skillet over medium-high heat. Add the dumplings to the pan, and allow to fry

In a small bowl mix together ⅓ cup water and 2 ½ teaspoons flour. Pour the slurry over the pan-fried dumpling to create a lace effect. Cover for about 5 minutes. Remove the lid with the heat still on. Once crispy, invert the pan with the dumpling over a plate. Repeat the slurry process with each batch of dumplings if desired

Sriracha Chili Sauce
#87190 | 17 OZ.
Duck Sauce
#70342 | 10 OZ.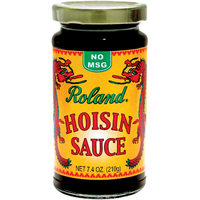 Hoisin Sauce
#87100 | 7.4 OZ.