Pad Thai
Difficulty: Medium | Makes: 3-4 Servings
Pad Thai is a classic noodle dish leveraging Pad Thai Rice Stick Noodles and traditional Thai flavors.
Ingredients
1/2 package Roland® Pad Thai Noodles
1 tablespoon tamarind paste
2 teaspoons brown sugar, packed
3 tablespoons vegetable oil
4 garlic cloves, minced
1 cup medium sized shrimp, peeled and deveined
1/4 cup firm tofu, rinsed and drained, cut into 1/2 inch cubes
2 eggs, beaten lightly
3 tablespoons Roland® Fish Sauce
2 tablespoons Roland® Soy Sauce
3 stalk scallions, chopped
1 cup fresh mung bean sprout
3/4 teaspoon crushed red chili pepper
4 tablespoons roasted peanuts, chopped
1/4 cup fresh cilantro, chopped
1 lime, cut into wedges
Directions
Prepare noodles as directed on package and set aside
In a small box, mix tamarind paste with 1/4 cup of hot water, then push through a sieve (discard solids) and stir in brown sugar
In a large skillet, heat 2 tablespoons of oil and stir-fry garlic for a few seconds
Add shrimp and tofu and stir for 3 minutes
Add eggs and cook for 30 seconds until lightly set
Add noodles, tamarind mixture, remaining oil, fish sauce, soy sauce, and crushed red chili pepper and cook for 5 minutes
Add bean sprouts and scallions and cook for 1 minute
Place on a serving dish and garnish with roasted peanuts, cilantro, and lime wedges. Serve hot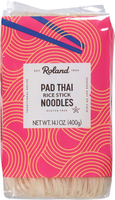 Pad Thai Rice Stick Noodles
#72320 | 14.1 OZ.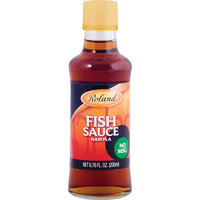 Fish Sauce
#87420 | 6.76 FL.OZ.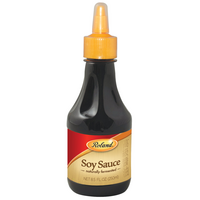 Soy Sauce
#87084 | 8.5 FL.OZ.