Oven Roasted Tomato Soup with Basil and Crispy Capers
Difficulty: Easy | Makes: 6-8 Servings
A simple crockpot dish that utilizes few ingredients, capturing the flavor of perfectly ripe tomatoes even out of season.
Ingredients
1 bag of Roland® Oven Roasted Cherry Tomatoes
1 medium yellow onions, peeled and chopped
2 cloves of garlic, peeled
8 medium fresh tomatoes (can used canned diced tomatoes if necessary, 64 oz/ 8 cups)
¼ cup brown sugar
1 cup half & half
½ cup Roland® Nonpareille Capers, drained
½ cup corn starch
Fresh basil
Vegetable oil
Sea salt
Directions
Preheat crockpot to high
Use a strainer to separate the liquid and solids of the oven roasted tomatoes; Add the liquid and half of the tomatoes to the crockpot. Reserve the other tomatoes under refrigeration for later use
Add the onion and garlic to the crock pot, stir until evenly mixed
Allow the contents of the pot to simmer, while coring and roughly chopping the tomatoes. Add the tomatoes to the crockpot, stir and cover with the lid
Allow the contents for at least an hour, or up to 8 hours
Puree the contents using an immersion blender and season with sea salt
Add in the half & half, reserved oven roasted tomatoes, and brown sugar to the puree, gently stir until combined. Cover and place the pot on low, allowing it to cook for at least 10 minutes
In a small bowl, add the capers and cornstarch, gently mix until the capers have a light coating
Heat a small saucepan over medium heat, add oil to cover the bottom by about ¼ of an inch. Allow the oil to heat until hot enough to pan fry, about 1 minute (this can be tested by throwing one of the capers into the pan - it should immediately sizzle)
Using a slotted spoon remove the capers from the bowl, allowing the excess cornstarch to fall through, then add the capers to the sizzling pan. Pan fry the capers until lightly crispy, about 3 minutes. Remove from the pan onto a heat safe plate lined with a paper towel to remove excess oil. Set aside
Serve soup in bowls, topped with crispy capers and fresh basil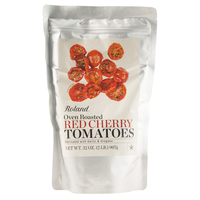 Oven-Roasted Red Cherry Tomatoes
#45926 | 32 OZ.

Nonpareille Capers
#70026 | 3 FL.OZ.