Mushroom, Caramelized Onion, and Truffle Oil Pizza
Difficulty: Easy
Umami flavors of mushrooms and truffle oil and the sweetness of caramelized onions come together with assorted cheeses to create this delicious pizza.
Ingredients
10-16 oz. pizza dough (depending on desired thickness)
12 oz. choice of: Roland® Marinated Sliced Mushrooms, Roland® Grilled Whole Mushrooms in Olive Oil cut in half, or Roland® Grilled Portobello Mushrooms in Olive Oil sliced
10 small garlic cloves, roasted
2 tablespoons Roland® Olive Oil
2 oz. choice: of Roland® Sautéed Onions or Roland® Grilled Borretane Onions in Olive Oil, halved
3 oz. ricotta cheese
1 tablespoon Roland® Balsamic Vinegar
1 cup mozzarella cheese, shredded
2 oz. goat cheese, crumbled
1 teaspoon fresh chopped herbs, thyme and chives
Roland® Fine Polenta, for dusting
All purpose flour, for rolling
Roland® Fine Sea Salt, to taste
Roland® White Truffle Oil, for drizzling
Freshly ground black pepper, to taste
Directions
1. Preheat oven to 500° F. Place a pizza stone or pan on the bottom rack of the oven to pre-heat for at least 30 minutes
2. Place dough on a lightly floured work surface; let stand at room temperature, about 20 minutes
3. Mix the ricotta cheese with vinegar, salt, and pepper
4. Roll out the dough on a lightly-floured surface into 12" round. Generously dust a pizza peel with polenta and place the dough on the peel for assembly
6. To assemble the pizza, spread the ricotta cheese mixture evenly on the dough; sprinkle mozzarella cheese on top. Evenly distribute the mushrooms, onions, garlic cloves, herbs, and goat cheese. Season with salt and pepper
7. Carefully transfer the pizza crust onto the pizza stone or pan by sliding it off of the peel
8. Bake for 10-15 minutes or until the crust is golden brown
9. Top the pizza with a light drizzle of truffle oil and serve

Olive Oil
#70626 | 16.9 FL.OZ.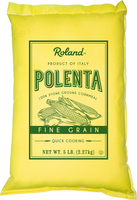 Fine Grain Yellow Polenta
#72162 | 5 LB.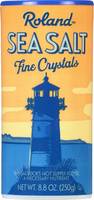 Fine Crystal Sea Salt
#70826 | 8.8 OZ.