Miso Roasted Carrots with Citrus Black Truffle Crema
The umami-rich flavor of miso balances the sweetness of roasted carrots in this inventive vegetable-forward dish.
Miso Roasted Carrots
1 pound whole carrots
1/4 cup white wine vinegar
2 tablespoons plant-based butter, melted
3 tablespoons Roland® Miso
Salt and pepper, to taste
Chopped fresh "soft" herbs for garnish (dill, parsley, tarragon, basil, or cilantro)
Citrus Black Truffle Crema
Directions
For the Carrots:
Preheat oven to 400 degrees F
Peel carrots, and trim the ends. Cut the carrots in half lengthwise
In a medium sized mixing bowl combine vinegar, butter and miso, stir until
combined
Add the carrots into the bowl, toss in the miso mixture until coated
On a nonstick baking sheet, layout the carrots, season with salt and pepper
Roast in the oven for 15 minutes
Flip each carrot over to achieve even cooking, return to oven for 15-20 minutes until slightly caramelized and edges begin to crisp
Remove from pan and serve hot or room temperature – Garnish with fresh chopped fresh herbs if desired (suggest tarragon & Italian parsley)
For the Crema:
Place potatoes into a small sauce pot, add water until all potatoes are just beneath the water. Heat the pot on the stove on medium high heat. Bring to a simmer, cook potatoes until fork tender (approx. 10 minutes after a simmer is achieved)
Remove from heat, strain the potatoes and cool to room temperature
Add the potatoes, coconut milk, salt, lemon juice and zest to a blender. Blend until smooth
Pour into a container, cover and refrigerate. Allow at least 1 to chill before use
Serve with roasted carrots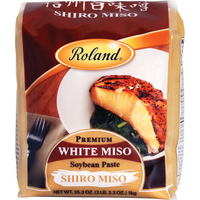 White Miso Paste
#87610 | 36.1 OZ.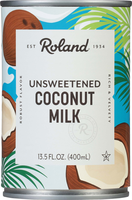 Unsweetened Coconut Milk
#86002 | 13.5 FL.OZ.

Black Truffle Oil – Extra Virgin Olive Oil with Black Truffle Pieces
#70664 | 3.38 FL.OZ.