Miso Compound Butter
Difficulty: Easy | Makes: 1 Serving
Spring is right around the corner, which means lighter ingredients will soon be taking center stage again. We like to stock our springtime pantry with products that are not as heavy but still packed with flavor. One of our pantry favorites is white miso paste, a Japanese fermented soybean paste. It can be used in anything from marinades, dressings, soups, and stocks for a complex savory and umami flavor. Try it yourself with our Miso Compound Butter recipe below.
Directions
Whisk together the butter, miso, and tahini until evenly blended.
Add any desired garnish (black pepper or herbs).
Use as is or roll into a column, wrap in plastic, and chill. Then, slice for use.
Serve atop a baked sweet potato, cauliflower steaks, broiled fish, and more!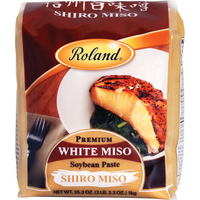 White Miso Paste
#87610 | 36.1 OZ.
Organic Fine Tahini
#70174 | 10.93 OZ