Lo Mein Noodle Bowl
Difficulty: Easy | Makes: 4-6 Servings
This flavorful noodle bowl pairs umami flavors with vegetables and poultry to create a hearty lunch or dinner meal.
Directions
Cook chicken and slice
Bring salted water to a boil and cook noodles for 3-5 minutes or until tender
Drain noodles and run under cold water until room temperature
Place noodles in a large bowl and set aside
In a separate bowl add the vinegar, soy sauce, garlic, sesame oil, brown sugar and lime juice. Whisk to combine
Slowly drizzle the vegetable oil in while whisking until combined. Add salt and pepper
Mix the dressing into the noodles
Top the bowl with chicken, edamame, cucumber, and sesame seeds to serve
Black Sesame Seeds
#84238 | 4.12 OZ.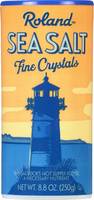 Fine Crystal Sea Salt
#70826 | 8.8 OZ.