Italian Fusion Tantanmen Bowl
Difficulty: Medium | Makes: 2 Servings
Check our our take on an Asian-Italian fusion ramen bowl, for an interesting and delicious combination of flavors.
Ingredients
1 tablespoon Roland® Grapeseed Oil
2 cloves garlic, grated
1/2 cup Roland® Sun-Dried Tomatoes, divided, oil reserved
2 tablespoons tomato paste
1 pound ground pork
2 teaspoons, Roland® Soy Sauce, divided
1/4 cup Roland® Organic Fine Tahini
1 tablespoon Roland® White Miso Paste
1/4 cup basil, finely chopped, plus more for serving
2 1/2 cups chicken stock
1 head bok choy, halved lengthwise
1 (6 oz) Roland® Chuka Soba Noodles, cook according to the package
1 tablespoon scallions, finely chopped, for serving
1 teaspoon black and white sesame seeds, for serving
1 egg, soft-boiled, halved, for serving
2 teaspoons Roland® Spicy Chili Onion Crisp for serving (get the Spicy Chili Onion Crisp on Amazon)
Directions
In a large saute pan, over medium-high heat add 1 tablespoon of grapeseed oil, grated garlic, ¼ cup finely chopped sun-dried tomatoes, and tomato paste. Cook for about 5 minutes or until rusty. Add the pork and mix to combine. Once golden, add 1 teaspoon soy sauce

In a separate bowl combine 1 teaspoon soy sauce, tahini, miso, 1 tablespoon of sun-dried tomato oil, and chopped basil

In a small sauce pot, warm the chicken stock and coconut milk. When the stock mixture comes to a boil quickly blanch the bok choy. Remove and pour the tahini miso mixture into the broth mixture. Mix to combine

To serve, divide the broth mixture into two serving bowls. Add the cooked noodles and pork to the bowls. Top with basil, blanched bok choy, scallions, sesame seeds, half of a soft-boiled egg, and spicy chili onion crisp
Sun-Dried Tomatoes
#46802 | 6.34 OZ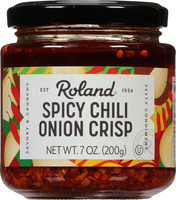 Spicy Chili Onion Crisp
#87723 | 7 OZ.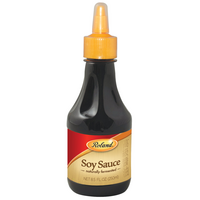 Soy Sauce
#87084 | 8.5 FL.OZ.