Iced Coconut Latte
Difficulty: Easy | Makes: 1 Serving
This dairy-free and vegan coconut latte is rich, creamy, and luxurious! The recipe is by creators Briana DeBolt and Chamere Orr.
For the Coconut Milk Cream (Makes 4 Servings)
1/2 cup water (or more for desired consistency)
1 1/2 - 2 tablespoons vanilla bean paste or vanilla extract
1/2 teaspoon kosher salt
1/2 teaspoon cinnamon
For One Serving
2 ounces espresso
1-2 tablespoons Roland® Maple Syrup, to taste
3-4 ounces coconut milk cream, from above
Ice
Toasted coconut, to garnish
Directions
Combine hot espresso with maple syrup or sweetener of choice. Stir to combine or dissolve. Set aside to cool
In a large beaker (or in a blender if using a regular blender) add the canned coconut milk, water, cinnamon, salt, and vanilla extract. Blend until smooth and starting to foam
Garnish the rim of your glass with a little maple syrup and toasted coconut flakes if desired. Add ice, then add in the cooled maple syrup and espresso mixture, followed by the coconut milk mixture. Stir to combine, and enjoy right away!
Find more recipes from Briana and Chamere on their blog A Full Living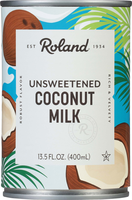 Unsweetened Coconut Milk
#86002 | 13.5 FL.OZ.
Maple Syrup, Grade A Amber Color, Rich Taste
#71686 | 12 FL.OZ.