Harissa Braised Jackfruit and Zaatar Cucumbers Over Creamy Coconut Polenta
Coconut milk adds an unexpected tropical sweetness to this jackfruit dish, which is a twist on traditional shrimp and grits.
Harissa Braised Jackfruit
19 oz. can Roland® Jackfruit, drained
1/2 cup harissa red chili spread
1/4 cup yellow onion, sliced
1 cup orange juice
3 cloves garlic, minced
2 tablespoons Roland® Maple Syrup
Salt and pepper, to taste
Creamy Coconut Polenta
Zaatar Cucumbers
1 English cucumber
1 clove garlic, grated
4 tablespoons Roland® Olive Oil
1 tablespoon Roland® Maple Syrup
2 tablespoons Roland® Za'atar
2 tablespoons lemon juice
1 small white onion
1/4 cup fresh cilantro, chopped
Optional: 1 teaspoon minced fresh chilies
Salt and pepper, to taste
Directions
For the Jackfruit:
Smash and shred the jackfruit until it resembles pulled animal protein. The seed pods can also be broken up and included
Place all ingredients into a medium sauce pot, stir until evenly mixed. Place over medium heat and bring to a simmer. Once a simmer is achieved, turn down to medium heat. Cook for 20-25 minutes, stirring occasionally to prevent sticking
Finished product should have the liquid reduced significantly. Serve hot or room temperature
For the Polenta:
In a small sauce pot over medium heat, combine coconut milk, broth, garlic, and bay leaf. Bring the contents to a simmer
Reduce the heat for the pot to low. Remove the bay leaf
While stirring the coconut mixture, slowly add in the polenta. Continue stirring until the contents reach a thick porridge consistency
Season with salt and pepper
Serve warm
For the Cucumbers:
In a medium mixing bowl combine olive oil, grated garlic, lemon juice, maple syrup, and za'atar
Cut the cucumber and onion into a ¼ inch dice, add into the mixing bowl. Stir until evenly coated
Add chilies if desired
Season to taste with salt and pepper
Serve immediately, or salad can be made a few hours ahead, covered and refrigerated
Garnish with cilantro when served

Olive Oil
#70626 | 16.9 FL.OZ.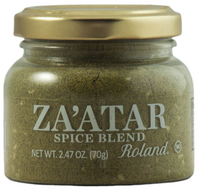 Za'atar Spice Blend
#75066 | 2.46 OZ.