Coconut Thai Rice Noodles with Lime and Basil
Difficulty: Easy | Makes: 8-10 Servings
A delicious and fresh noodle dish with bright Thai flavors perfect for Spring and Summer. This recipe calls for chicken, but you can sub in steak if you please, or eliminate the meat altogether for a vegetarian option.
Ingredients
1 14 oz. pack Roland® Pad Thai Rice Stick Noodles
1 bunch green onions, minced
1 seedless cucumber, quartered and thinly sliced
12 oz. Nappa cabbage, shredded
10 oz, edamame beans, cooked and shelled
16 oz. cooked chicken breast, finely shredded (optional)
1/4 cup peanuts, toasted and chopped, for garnish
2 tbsp. cilantro, roughly chopped, for garnish
Dressing
Directions
Cook Pad Thai Rice Stick Noodles according to package directions. Drain and cool
Combine all dressing ingredients in a bowl and whisk together. Season with salt and pepper
In a large bowl, combine noodles and dressing, mixing thoroughly with your hands
Add the green onions, cucumber, cabbage, edamame beans, and chicken breast to the noodle mixture. Toss thoroughly until well coated
Adjust the seasoning with salt and pepper
Garnish with peanuts and cilantro
Toasted Sesame Oil
#87122 | 6.28 FL.OZ.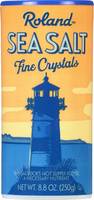 Fine Crystal Sea Salt
#70826 | 8.8 OZ.