Classic Piña Colada
Difficulty: Easy | Makes: 4-6 Servings
Refreshing and flavorful, the Piña Colada is a classic tropical drink that utilizes our premium Roland® Cream of Coconut.
Ingredients
6 ounces white rum
4 ounces golden or dark rum (optional)
6 ounces Roland® Cream of Coconut
6 ounces pineapple juice
1/2 cup frozen pineapple chunks
4 cups ice
Pineapple leaves or wedges for garnish
Directions
Pour the white rum, cream of coconut, pineapple juice, frozen pineapple, and ice into a blender
Blend until smooth
Pour into glasses and top with a golden or dark rum float (optional)
Serve with a slice of pineapple or a pineapple leaf as a garnish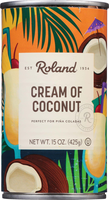 Cream of Coconut
#71240 | 15 OZ.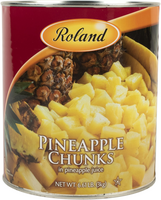 Pineapple Chunks in Pineapple Juice
#64508 | 6.61 LB.