Chai Spiced Chocolate Truffles
Difficulty: Easy | Makes: 10 Servings
Full of fall flavors, this chocolate truffle features warm notes of cinnamon, clove, anise, and cardamom with a hint of rose water.
Ingredients
1lb 14 ounces dark chocolate
2 cans (13.5oz) Roland® Coconut Milk
2 tablespoons loose black tea
1 teaspoon rose water
1-1/2 teaspoon ground cardamom
4 cinnamon sticks
1 teaspoon cloves
3 anise star pods
1/2 ounce fresh ginger, peeled and sliced
Dried rose petals or Roland® Pink Peppercorns, for garnish
Directions
Bring coconut milk, tea, rose water, and spices to a boil in saucepan. Let simmer for approximately 5 minutes. Turn off heat and strain out solids
Pour the hot milk over chopped chocolate and stir until combined, use a bain marie if heat from coconut is not enough to completely melt the chocolate
Let ganache chill for 3-4 hours. Scoop small rounds and roll in cocoa powder. Top with dried rose petals or pink peppercorns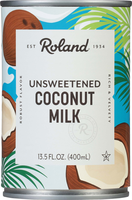 Unsweetened Coconut Milk
#86002 | 13.5 FL.OZ.
Pink Peppercorns
#70370 | 1.9 oz.