Korean BBQ Marinade - Bulgogi
Roland® | #87704
Bulgogi is one of the most popular dishes in South Korea; thin slices of beef are marinated before being grilled or pan-fried. Roland® Korean BBQ Marinade will caramelize but not burn over high heat or on the grill.
You May Also Like
Fusion Solutions® Hot Wasabi Finishing Sauce
#32100 | 10.5 OZ.

Thai Style Sweet Chili Sauce
#87192 | 6.34 OZ.
Tikka Masala Curry Sauce
#85701 | 12.4 OZ.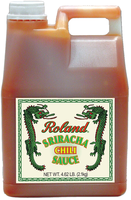 Sriracha Chili Sauce
#87186 | 4.62 LB.