Garlic Chili Sauce
Roland® | #87270
With a rustic coarse texture and visible chunks of savory garlic and spicy chilis, Roland® Garlic Chili Sauce is a well-balanced savory and tangy condiment with a lingering warming heat. It is excellent spread on wings, sandwiches, or burgers. Try adding our Garlic Chili Sauce it to soups, rice, or noodles.
You May Also Like

Thai Style Sweet Chili Sauce
#87193 | 6.34 OZ.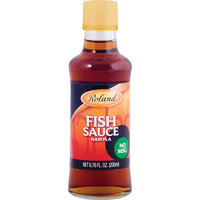 Fish Sauce
#87420 | 6.76 FL.OZ.
Tikka Masala Curry Sauce
#85701 | 12.4 OZ.
White Truffle Cream
#46562 | 9.8 OZ.