Hot Sesame Oil
Roland® | #87202
Expeller pressed from high quality toasted white sesame seeds and infused with chili extract, Roland® Hot Toasted Sesame Oil will add a fiery and flavorful nutty depth to a wide range of Asian, Pan-Pacific, and modern cuisines. A little goes a long way for our Hot Toasted Sesame Oil, use sparingly to enhance your dishes!
You May Also Like
Truffle Glaze with Balsamic Vinegar of Modena - Artificially Flavored
#76344 | 12.84 FL. OZ.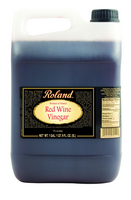 French Red Wine Vinegar
#70592 | 5 L.
White Condiment Glaze with Grape Must & Wine Vinegar
#76342 | 12.84 FL.OZ.

Garlic Infused Oil
#70694 | 6.25 FL.OZ.