Hot Sesame Oil
Roland® | #87200
Roland® Hot Sesame Oil is made from toasted, white sesame seeds and chilies. It has a dark amber color and has a nutlike flavor with distinct hot "fiery" overtones. It is used primarily as a condiment, i.e. flavoring element.
You May Also Like
Tamarind Glaze made with Balsamic Vinegar of Modena
#76304 | 5.07 FL. OZ.
Special Reserve French White Wine Vinegar
#70566 | 33.8 FL. OZ.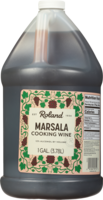 Marsala Cooking Wine
#70714 | 1 GAL.

White Truffle Oil – Extra Virgin Olive Oil with White Truffle Pieces
#70662 | 8.45 FL.OZ.