Plum Sauce
Roland® | #87114
Roland® Plum Sauce is a dark brownish plum color. It is a sweet sauce made from the finest Chinese plums blended with chili and ginger. Sweet and piquant, this basic sauce has strong overtones of plum and ginger.
You May Also Like
Za'atar Tahini
#70172 | 12.35 OZ.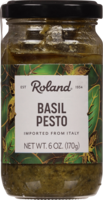 Basil Pesto
#46908 | 6 OZ.
Roasted Red Pepper Purée
#45706 | 28 OZ.
Ajvar - Red Pepper Spread
#46746 | 12 OZ.