Organic Refined Coconut Oil
Roland® | #86058
Roland® Organic Refined Coconut Oil is trans fat free and cold-pressed from dried coconuts. It stays solid up to 76°F. This neutral-tasting coconut oil can be used for all types of cooking; it is great as a dairy-free replacement to butter and can even be used as a skin moisturizer.
You May Also Like

Hot Chili Infused Oil
#87197 | 6.25 FL.OZ.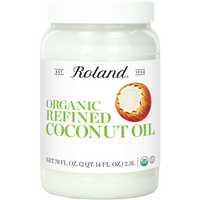 Organic Refined Coconut Oil
#86056 | 78 FL. OZ.
Organic Balsamic Glaze
#76328 | 12.84 FL.OZ.
Spanish Extra Virgin Olive Oil - Arbequina and Picual Olives
#70688 | 101.4 FL.OZ.