Refined Liquid Coconut Oil
Roland® | #86052
Roland® Refined Liquid Coconut Oil is a trans-fat free oil that stays in liquid form whether it is room temperature or refrigerated. Our coconut oil has been expeller-pressed and refined to neutralize the coconut flavor. Its neutral flavor makes it perfect for a myriad of uses.
You May Also Like
Kosher Balsamic Vinegar of Modena
#70424 | 5 L.

Black Truffle Oil – Extra Virgin Olive Oil with Black Truffle Pieces
#70664 | 3.38 FL.OZ.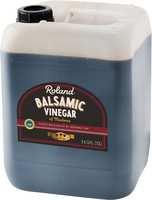 Balsamic Vinegar of Modena
#70598 | 2.6 GAL.

White Truffle Oil – Sunflower Oil with White Truffle Pieces
#70668 | 8.45 FL.OZ.