Lite Coconut Milk
Roland® | #86012
With 67% less fat and 61% fewer calories than our classic coconut milk, Roland® Lite Coconut Milk is a lighter blend but with the same creamy-smooth consistency quintessential to coconut milk. Widely used in Pan-Asian and Indo-Caribbean cooking, coconut milk creates a creamy and rich tropical base for curries, sauces, and soups. It is also a popular alternative in contemporary cooking and baking.
You May Also Like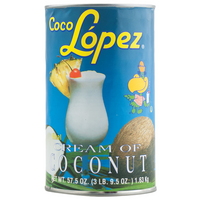 Cream of Coconut
#71211 | 57.5 OZ.
Kumquats in Extra Heavy Syrup
#61100 | 9.5 OZ.
Coconut Milk - 24% Fat
#71323 | 52.7 GAL.
Lychees in Heavy Syrup
#90016 | 19.9 OZ.