Lightly Salted Dry Roasted Edamame Soybeans
Roland® | #83740
Dry Roasted Edamame Soybeans are an addicting, crunchy snack. They are the perfect blend of salty, savory and crunchy and are sure to satisfy edamame lovers and snack enthusiasts alike.
You May Also Like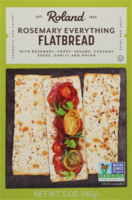 Rosemary Everything Flatbreads
#71152 | 5 OZ.
Lightly Salted Dry Roasted Edamame Soybeans
#83740 | 4.4 OZ.
Savory Original Rice Crackers
#83500 | 3.5 OZ.
Quinoa with Mushroom Sauce
#72676 | 7.4 OZ.