Hot Wasabi Rice Crackers
Roland® | #83510
Roland® Hot Wasabi Rice Crackers are light in texture, but pack the perfect punch of heat to keep you coming back for more. They are conveniently packed in a fully resealable pouch, making them a perfect on-the-go snack!
You May Also Like
Quinoa with Vegetable Medley
#72674 | 7.4 OZ.
Traditional Crostini
#72800 | 7.05 OZ.
Sea Salt Cracker Trays
#65601 | 5 oz.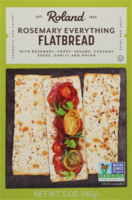 Rosemary Everything Flatbreads
#71152 | 5 OZ.