Savory Original Rice Crackers
Roland® | #83500
Rice crackers, also known as Senbei, are light and airy crackers made from rice flour. Once enjoyed alongside green tea in Japan, rice crackers are now a popular snack to be eaten at any time of the day. Combine Roland® Savory Original Rice Crackers with wasabi peas and nuts for an addicting snack mix.
You May Also Like

Everything Wheat Crackers
#71002 | 4.4 OZ.
Quinoa with Caponata
#72672 | 7.4 OZ.
Sea Salt Cracker Trays
#65601 | 5 oz.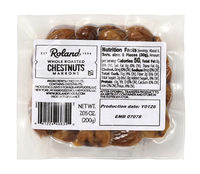 Roasted Chestnuts
#46634 | 7.05 OZ.