Belgian White Chocolate Block
Roland® | #77070
Roland® Belgian White Chocolate Block can be melted, cut or shaved for use in sauces, truffles, mousse and ganache. Sweet, rich and creamy, it adds melt-in-your-mouth flavor to any dessert dish. Try it in an icing or glaze for a beautiful gloss and luscious texture.
You May Also Like
French Sablés Shortbread Cookies
#71176 | 4.4 OZ.
Raspberry Tartlette Cookies
#71192 | 7.05 OZ.
Melba Sauce with Black & Red Raspberries
#87166 | 2 LB.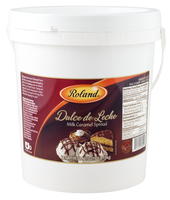 Dulce de Leche
#65800 | 11 LB.