Dijon Mustard Glaze made with Balsamic Vinegar of Modena
Roland® | #76348
Roland® Dijon Mustard Glaze made with Balsamic Vinegar of Modena is produced with authentic Balsamic Vinegar of Modena and blended with Dijon mustard. Drizzle it on any fish, meat or vegetable dish for a smooth kick of pungent flavor.
You May Also Like
Rosé Wine Vinegar
#76322 | 16.9 FL. OZ.
Refined Liquid Coconut Oil
#86052 | 16 FL. OZ.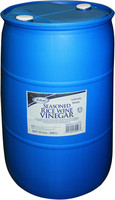 Seasoned Rice Wine Vinegar
#70517 | 55 GAL.

Garlic Infused Oil
#70694 | 6.25 FL.OZ.