Ras el Hanout Spice Blend
Roland® | #75072
Ras el hanout translates to "best of the shop". Originally from Morocco, it owes its heady fragrance to turmeric, allspice and cumin. There is no ultimate recipe; each family has its own preferred blend! Try it in tagines or as a dry rub for lamb or poultry.
You May Also Like

Wasabi Paste
#70186 | 1.51 OZ.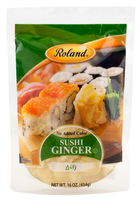 Sushi Ginger with No Added Color
#60370 | 16 OZ.
Ras el Hanout Spice Blend
#75072 | 3 OZ.
White Truffle Cream
#46562 | 9.8 OZ.