Party Parasol Fan
Roland® | #74202
Roland® Multicolored Collapsible Miniature Umbrella Toothpicks are packed 4x15/144 picks. They are an expected "extra" in Pina Coladas and other rum-based concoctions. Parasols are approximately 2" in diameter and are packed in as assortment of bright colors.
You May Also Like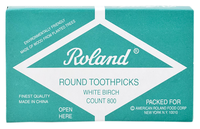 Round Wooden Toothpicks
#74040 | 800 Ct
White Plastic Aprons
#74410 | 100 Pcs.
Bamboo Skewers 10" x 3mm
#71524 | 100 Pack
Bamboo Skewers 10" x 5mm
#71528 | 100 Pack