White Quinoa
Consul® | #72692
Quinoa was considered by the Incas to be the "Mother of all grains." Roland® Quinoa has a delicate, neutral taste and is prewashed and ready-to-use. Our Quinoa is nutritious, high in fiber, vitamins and minerals and contains a balanced set of amino acids.
You May Also Like
French Green Lentils
#46324 | 55.11 LB.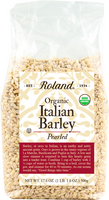 Organic Pearled Italian Barley
#72610 | 17.6 OZ.
Pre-Cooked White Rice, Wheatberry, Wild Rice Grain Blend
#73004 | 5 LB.
Pre-Cooked Black Quinoa
#72396 | 42.3 OZ.