Pearled Italian Barley
Roland® | #72612
Roland® Orzotto is an organic barley cultivated in Italy. It is pearled and is very similar to Farro in size, texture and taste. It is a versatile grain that can be served hot as an entrée or side dish and can also be served as a cold salad. It is an excellent source of iron with a full day's serving.
You May Also Like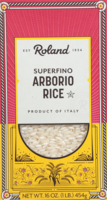 Arborio Rice
#72450 | 16 OZ.
Pre-Cooked Black Quinoa
#72396 | 42.3 OZ.
Medium Grain White Polenta
#72156 | 8.8 OZ.
Organic Tri-Color Quinoa
#72688 | 25 LB.