Colossal Whole Cracked Green Olives
Roland® | #71794
Roland® Colossal Cracked Green Olives are large unripen olives from Greece. The olive is medium to firm in texture with a crack, and is packed in brine. The taste is savory and mild and is enhanced by the brine which penetrates the olive.
You May Also Like
New Orleans Style Hot Muffuletta Salad
#46788 | 56 OZ.
Hot Sliced Jalapeño Peppers
#45770 | 11.5 FL.OZ.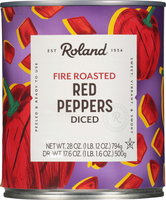 Diced Fire-Roasted Red Peppers
#45578 | 28 OZ.
Whole French Provençal Olives with Aromatic Herbs
#71480 | 7.76 OZ. DW