Colossal Whole Cracked Green Olives
Roland® | #71794
Roland® Colossal Cracked Green Olives are large unripen olives from Greece. The olive is medium to firm in texture with a crack, and is packed in brine. The taste is savory and mild and is enhanced by the brine which penetrates the olive.
You May Also Like
Colossal Whole Cracked Green Olives
#71794 | 4.4 LB. DW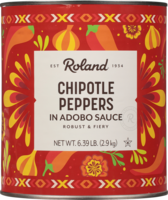 Chipotle Peppers in Adobo Sauce
#45788 | 6.39 LB.
Sliced Red & Yellow Mini Peppers Marinated with Ground Chipotle
#45748 | 28 OZ.
Black Olive Paste
#46944 | 6.17 LB.