Pitted Kalamata Olives - 200/230
Roland® | #71732
Kalamata olives are indigenous to Greece; they are loved for their briny flavor and attractive purple color. Roland® Pitted Kalamata Olives are delicious eaten on their own, or used as a topping on salads and pizza.
You May Also Like
Marinated Quartered Red Peppers
#45670 | 24.3 FL. OZ. (720mL)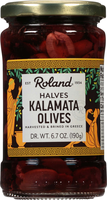 Halved Kalamata Olives
#71728 | 6.7 OZ. DW
Fire-Roasted Red Peppers
#45654 | 12 OZ.
Black Olive Paste
#46944 | 6.17 LB.