Toasted Sesame Flatbreads
Roland® | #71150
Roland® Toasted Sesame Flatbreads are a crunchy and delicious treat. White sesame seeds add a nutty flavor to these mild crackers. Great eaten on their own, they are even better when garnished with the topping of your choice.
You May Also Like
Quinoa with Caponata
#72672 | 7.4 OZ.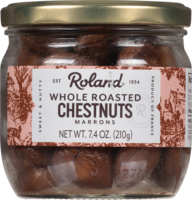 Roasted Chestnuts
#46604 | 7.4 OZ.
Toasted Sesame Flatbreads - Count: 50
#71042 | 13.25 OZ.
Sea Salt Cracker Trays
#65601 | 5 oz.