French Lady Fingers
Roland® | #71100
Crafted in France, Roland® French Lady Fingers are airy and crisp with a fragrant vanilla flavor and aroma. The thin, narrow oblong structure of the cookie is ideal for layering in desserts like French Charlotte, English trifle, and parfaits. Topped with glittering sugar, these cookies make an excellent décor for cakes, or as a garnish to gelato and ice cream. Our French Lady Fingers are also delicious on their own as an accompaniment to espresso, coffee, or tea.
You May Also Like
Chocolate Tartlette Cookies
#71190 | 7.05 OZ.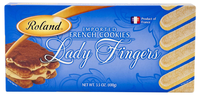 French Lady Fingers
#71100 | 3.52 OZ.

Victoria Cups - Belgium
#70955 | 84 Count
Wild Swedish Lingonberries in Sauce
#62016 | 11.02 LB.