Toasted Sesame Water Cracker
Roland® | #71016
Roland® Toasted Sesame Water Crackers have a slightly sweet, nutty, and toasted taste with a light, airy and crunchy texture. These crackers are ready to use straight out of the box as an accompaniment to cheese boards, charcuterie, tapas spreads, and antipasti. With their delicate crispy texture and nutty taste, they pair well with cheese, savory dips and toppings making it a versatile base for a wide range of appetizers and canapes.
You May Also Like

Cracked Pepper Water Cracker
#71014 | 4.4 OZ.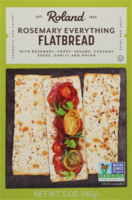 Rosemary Everything Flatbreads
#71152 | 5 OZ.

Country Style Crackers
#71004 | 4.4 OZ.

Classic Water Cracker
#71020 | 4.4 OZ.