Garlic Sea Salt
Roland® | #70872
Roland® Garlic Sea Salt is a combination of solar-evaporated salt and real garlic. It has a light brown color and texture of coarse sand which allows the salt crystals to slowly melt on the tongue.
You May Also Like
Five Peppercorn Blend
#70384 | 3 OZ.
Roasted Nori Seaweed
#84668 | 1 OZ.
Ground Sumac
#75054 | 16 OZ.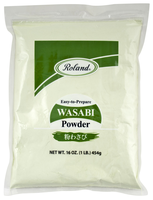 Wasabi Powder
#70182 | 16 OZ.