Sel Gris Grey Salt
Roland® | #70858
Roland® Grey Sea Salt is hand-harvested from the surface of salt ponds. Its light grey color comes from the clay which lines the ponds. It has a high moisture content which makes it ideal on steaks.
You May Also Like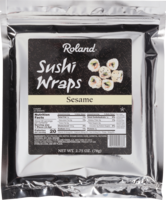 Sesame Sushi Wrap
#84688 | 20 Count
Ghost Pepper Sea Salt
#70846 | 5 LB.
Ras el Hanout Spice Blend
#75072 | 3 OZ.
Wasabi Sesame Seeds
#82460 | 16 OZ.