Chipotle Sea Salt
Roland® | #70844
Roland® Chipotle Sea Salt is a combination of solar-evaporated sea salt and ground chipotle peppers. It has a light brown hue and an earthy, smoky and spicy flavor.
You May Also Like
Green Peppercorns in Brine
#70366 | 28.2 OZ.
Black Winter Truffles
#46112 | 0.44 OZ.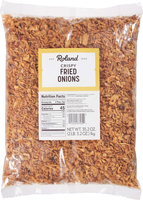 Crispy Fried Onions
#87530 | 35 OZ.
Black Scorzoni Truffle Juice
#46158 | 13.52 FL.OZ.