Chipotle Sea Salt
Roland® | #70844
Roland® Chipotle Sea Salt is a combination of solar-evaporated sea salt and ground chipotle peppers. It has a light brown hue and an earthy, smoky and spicy flavor.
You May Also Like
Chipotle Sea Salt
#70844 | 5 LB.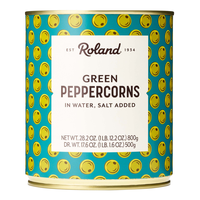 Green Peppercorns in Water, salt added
#70366 | 28.2 OZ.

Soy Sauce Sesame Seeds
#82452 | 3.52 OZ.
Ghost Pepper Sea Salt
#70846 | 5 LB.