Black Truffle Oil – Extra Virgin Olive Oil with Black Truffle Pieces
Roland® | #70664
Roland® Black Truffle Oil is a highly fragrant infusion of black truffle flavor in extra virgin olive oil. Imported from Italy, this product is golden in color and has an intense, earthy flavor.
You May Also Like

Organic Extra Virgin Olive Oil
#70670 | 16 FL OZ.
Special Reserve French White Wine Vinegar
#70566 | 33.8 FL. OZ.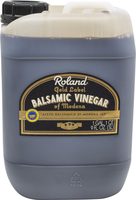 Gold Quality Balsamic Vinegar of Modena
#70456 | 5 L.

Organic Balsamic Glaze
#76326 | 5.07 FL. OZ.