Pistachio Oil
Roland® | #70648
Roland® Pure Pistachio Oil is extracted from the beloved pistachio nut. Imported from France, this elegant oil has a vibrant, green color and distinct pistachio flavor. Its low smoke point means it is best used as a finishing oil.
You May Also Like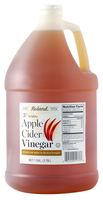 Apple Cider Vinegar- 5% Acidity
#70778 | 1 GAL.

Toasted Sesame Oil
#87142 | 12.5 FL.OZ.
Organic Refined Coconut Oil
#86058 | 16 FL.OZ.
Kosher Balsamic Vinegar of Modena
#70550 | 16.9 FL.OZ.