Extra Virgin Olive Oil
Roland® | #70638
Roland® Extra Virgin Olive Oil is an essential in any kitchen pantry. This luscious blend of Mediterranean extra virgin olive oils received the North American Olive Oil Association's seal of approval, which guarantees its quality. Carefully-selected olives are simply cold-pressed and filtered. No chemical refining, no heat-tampering: extra virgin olive oil in its purest and most delicious form.
You May Also Like
Chablis White Cooking Wine
#70720 | 12.9 FL OZ.
Organic Balsamic Vinegar of Modena
#70452 | 8.45 FL.OZ.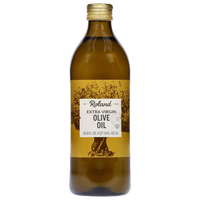 Extra Virgin Olive Oil
#70632 | 33.8 FL.OZ.
Special Reserve French White Wine Vinegar
#70566 | 33.8 FL. OZ.