Pomace Olive Oil
Roland® | #70636
Roland® Pomace Olive Oil is produced from the last pressing of the olives, which creates an olive oil that is light in both color and body, yet retains its true olive flavor. Try it for frying and sautéing.
You May Also Like
Rosé Wine Vinegar
#76320 | 8.45 FL. OZ.
Peach-Infused Balsamic Vinegar of Modena
#70468 | 8.45 FL.OZ.
Virgin Liquid Coconut Oil
#86050 | 16 FL.OZ.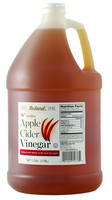 Apple Cider Vinegar- 6% Acidity
#70776 | 1 GAL.