Hazelnut Oil
Roland® | #70624
A unique oil with the full-bodied flavor of hazelnuts, Roland® Roasted Hazelnut Oil is a nutty addition in salad dressings and vinaigrettes. An ideal finishing touch, add a drizzle of this oil at the end of cooking poultry, veal, or roasted potatoes, or toss into pasta and rice dishes. Roland® Roasted Walnut Oil has a low smoke point, do not use in high heat cooking or frying, for best taste add at the end of cooking.
You May Also Like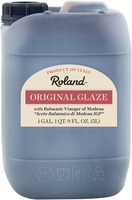 Glaze made with Balsamic Vinegar of Modena
#76354 | 5 L.

Black Truffle Oil – Extra Virgin Olive Oil with Black Truffle Pieces
#70665 | 3.38 FL.OZ.
Rice Wine Vinegar
#70522 | 1 GAL.
Organic Balsamic Glaze
#76328 | 12.84 FL.OZ.