Chianti Red Wine Vinegar
Roland® | #70546
Roland® Chianti Red Wine Vinegar is a crisp and robust vinegar with the distinctive aroma of Chianti wine. Smooth and full-bodied with a striking garnet red appearance, it is an ideal addition to marinades and glazes for red meats.
You May Also Like
Gold-Quality Balsamic Vinegar of Modena
#70556 | 8.45 FL.OZ.

Moscatel Vinegar
#76700 | 12.68 FL.OZ.
Rosé Wine Vinegar
#76324 | 5 L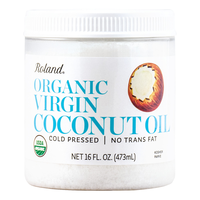 Organic Virgin Coconut Oil
#86060 | 16 FL.OZ.