Balsamic Vinegar of Modena
Roland® | #70540
Balsamic Vinegar was born in Italy nearly ten centuries ago. This sweet and tart vinegar is made from cooked grape must, which lends the vinegar a beautiful dark color. A tablespoon of vinegar will add an extra layer of flavor and brightness to dressings and sauces, as well as marinades and stews.
You May Also Like
Hot Chili Infused Oil
#87196 | 6.25 FL.OZ.
Walnut Oil
#70618 | 16.9 FL.OZ.
Traditional Balsamic Vinegar of Modena Aged 12 Years
#76316 | 3.38 FL.OZ.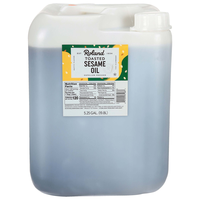 Toasted Sesame Oil
#87168 | 5.25 GAL.