Major Grey's Mango Chutney
Roland® | #70220
Roland® Major Grey's Mango Chutney is a sumptuous blend of sweet mangoes and zesty spices. According to legend, this chutney was invented by an officer of the British army in the 19th century. It can be used to prepare homemade duck sauce or can accompany a wide range of curries. Combine it with cream cheese for a sweet and tangy spread or toss with chicken wings for an addictive appetizer.
You May Also Like
Hoisin Sauce
#87106 | 12.6 OZ.
Green Jalapeño Pepper Purée
#45732 | 15 OZ.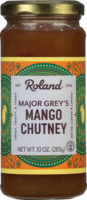 Major Grey's Mango Chutney
#70220 | 10 OZ.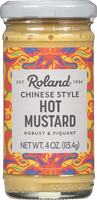 Chinese Hot Mustard
#70330 | 4 OZ.