Roasted Eggplant Purée
Roland® | #46738
Smoky and pleasantly earthy, Roland® Roasted Eggplant Purée has a rustic yet smooth texture. Try it blended in hummus and dips, spread in sandwiches, or blended in vegetarian patties.
You May Also Like
Thai Style Spicy Sweet Chili Sauce
#87193 | 6.34 OZ.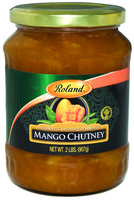 Mango Chutney
#70260 | 32 OZ.
Green Jalapeño Pepper Purée
#45732 | 15 OZ.
Chianti Wine Jelly
#65402 | 8.1 OZ.