Oven-Roasted Red Peppers
Roland® | #45960
Roland® Oven Roasted Red Peppers are meltingly tender, succulent slices of peppers marinated with garlic and spices. Add them to sandwiches, salads and grain bowls for a luscious kick of flavor.
You May Also Like
New Orleans Style Hot Muffuletta Salad
#46788 | 56 OZ.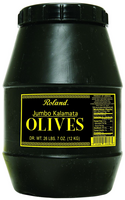 Jumbo Kalamata Olives
#71776 | 26.45 LB. DW.
Fire-Roasted Red Peppers
#45654 | 12 OZ.
Sliced Red & Yellow Mini Peppers Marinated with Ground Chipotle
#45748 | 28 OZ.